6 Clusters for 1 Mission
We strive for Cluster Excellence in the Automotive and Land Machinery Industry
6 Clusters from Czech Republic, Germany, Italy, Serbia, and Spain
1 Mission: building high performance clusters in the Automotive and Land Machinery Industry.
Project partners
Why are we together
Today's Challenges Are Tomorrow's Opportunities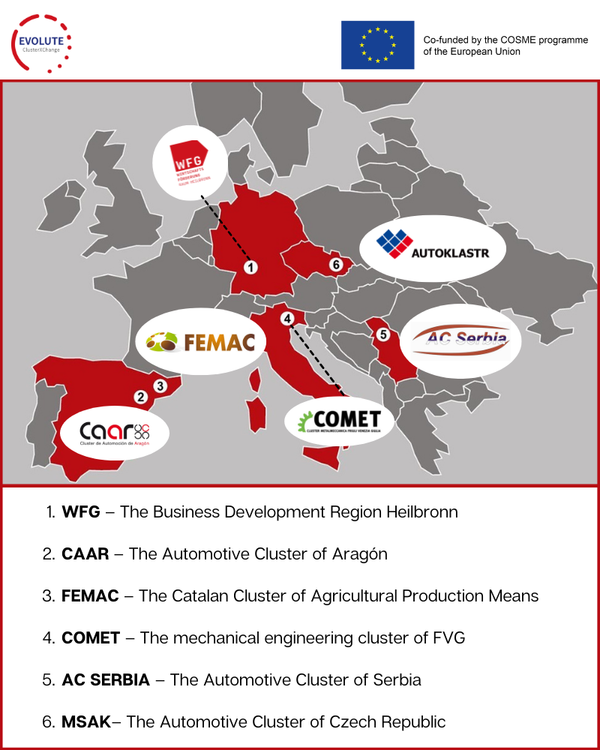 A lot is at stake in the traditional automotive industry, since major breakthroughs have altered the ecosystem. Digital Transformation, Green Transition, Electrification and Autonomous Driving are just some of the challenges this sector is enduring. These transformations affect the domain of mobility as a whole, including private and commercial transports, the agriculture and building industry too.
EVOLUTE will build high performance clusters in the Automotive and Land Machinery Industry by strengthening the skills and deepening the know-how of 6 clusters in Europe. Cluster managers will explore current market trends to gain a comprehensive vision of the future and develop encompassing individual strategies for further cluster excellence development.
EVOLUTE will also endorse cross-cluster learning experiences and networking activities to explore collaborative business opportunities and synergies, both among clusters and public authorities in charge of cluster policies. In addition, partners will support the implementation of the ClusterXChange scheme to facilitate international, sector, and cross-sector cooperation between clusters, SME and large organizations. The aim is to help companies and employees to be prepared for future challenges and foster innovation for world class products and services.