ClusterXchange
Discover more about EVOLUTE ClusterXchange

ClusterXchange in Bologna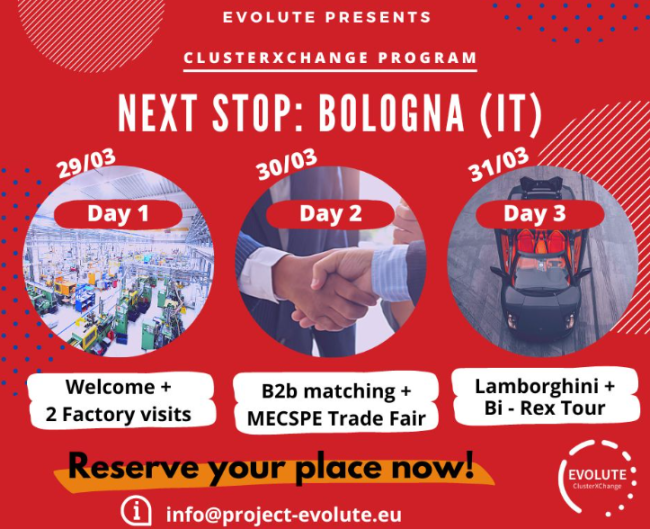 We are organizing a 3-day program for European SMEs and Clusters who are interested in:
- Matching with other Italian companies in manufacturing sector, selected by our partner COMET – Cluster della Metalmeccanica del FVG
- Visiting MECSPE Trade Fair in Bologna
- Getting inspired by two factory visits in one of the most important industrial ecosystems for automotive sector in Europe
- Visit the Bi Rex Competence Center and Lamborghini world
ClusterXChange in Novi Sad and Belgrade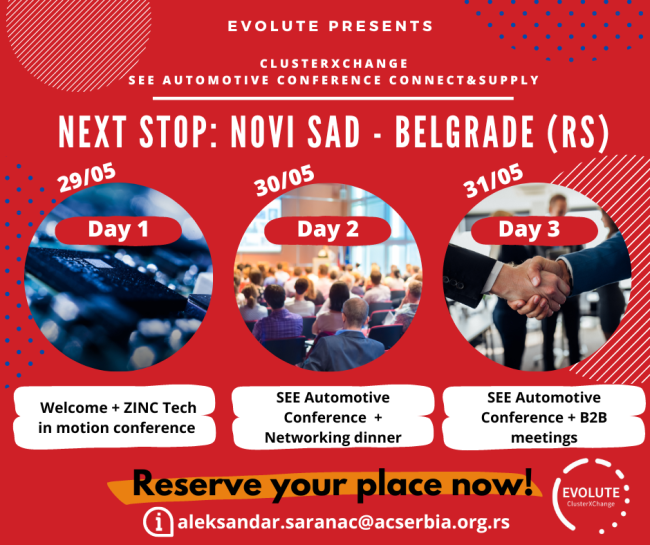 Come with us to the "SEE Automotive Conference Connect & Supply" in Serbia as part of EVOLUTE's 3-day ClusterXChange. You will meet local and international companies at the conference and at B2B meetings. You will listen to lectures on regional and global strategies of the automotive industry, e-mobility, green mobility strategies and much more.
Small and medium-sized enterprises, research institutions, cluster organisations, TechCenters receive a lump sum of up to EUR 280 (EU funding criteria apply Refer link: https://clustercollaboration.eu/clusterxchange/how-can-i-participate).
For registration or if you are interested and would like to receive a more detailed agenda, feel free to send an e-mail to: info@evolute-project.eu and/or: aleksandar.saranac@acserbia.org.rs
ClusterXchange in Heilbronn & Frankfurt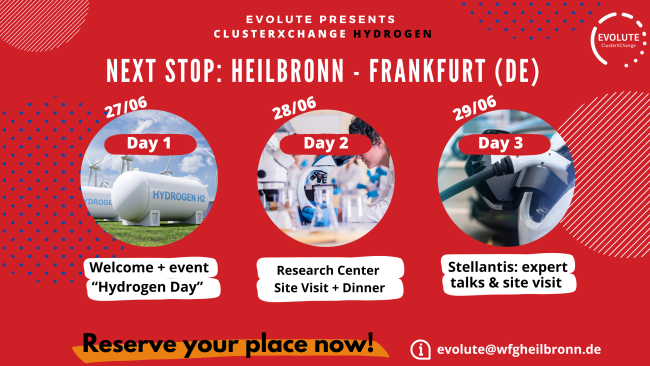 We are looking forward to welcome you to our ClusterXchange in Heilbronn & Frankfurt, Germany where you can meet other SME's, large companies, research institutes and clusters. The CXC includes a 3-day program: On the first day (27.06.23) you will attend the Hydrogen Day in the Buchsbachtalhalle in Hardthausen, which is a big event within the hydrogen field. On the second day (28.06.23) there are site visits to DLR & HALMOSI planned and in the evening there will be a networking BBQ! On the last day (29.06.23) you will visit STELLANTIS in Frankfurt area (Rüsselsheim) and you will hear about the hydrogen strategy and fuel cell electric vehicles at STELLANTIS. The networking lunch will take place at the Opel Villa.
What is a ClusterXChange?

The ClusterXChange scheme is a newly developed plan consisting of a stay abroad period with a selected partner in another participating country, in order to gain the relevant knowledge and skills in various areas. The aim is to boost entrepreneurship, increase the innovation uptake, the degree of competitiveness and internationalisation of micro and SMEs in Europe and beyond.
To learn more about the program and browse the Clusters participating to the scheme, CLICK HERE: https://clustercollaboration.eu/
Two are the ways in which you can participate:
VO - Visiting organisations
all cluster organisations and business network organisations
scaling-up support organisations
SMEs that are cluster members
HO – Host organisations
all cluster organisations and business network organisations
SMEs that are cluster members
scaling-up support organisations that are cluster members
training providers that are cluster members
large companies that are cluster members
public authorities at both regional and city/administration levels that are active in a cluster
Eligible organisations, both visiting and hosting, must be from countries participating in the COSME programme which include all European Union Member States and other third countries, as specified here.